While the album is almost complete, I go on to introducing all those who have collaborated in its realization. This week I will tell you about the second Siren: Stefania Fratepietro.
A warm, elegant, enveloping and silky voice, an intense interpreter who immediately proved to be perfect for this project; it was a real pleasure to have her sing with me also because, for geographical reasons, Stefania brings me back to my childhood and my origins. We come from the same town in Liguria, did you know we even attended the same high school?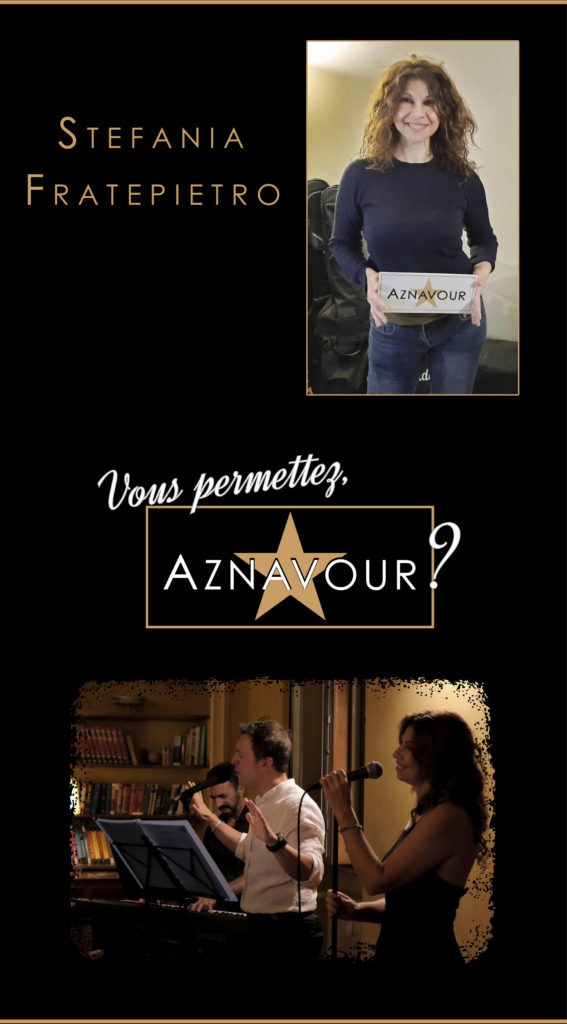 Stefania duets with me in "Mon émouvant amour", a song in which Aznavour talks about love and the way of communicating this feeling with a mute girl: a bond that goes beyond words, that lives in vibrations, looks and energies. A song that was sung with many great performers, including Liza Minnelli.
"… a moving dance that you set for me, your fascinating gestures look like embroidery,
then when you point out that you love me, I understand that I like to see your voice"
BIOGRAPHY:
Singer, actress, dancer, producer and teacher, Stefania Fratepietro trained in Italy and abroad.
She has more than 40 shows under her belt. She's the lead in al lot of important musicals and shows; she is Beatrice in "La Divina Commedia", Tosca in "Tosca", Mercedes in "Il Conte di Montecristo", Mimi in "Rent", Ermengarda in "Hello Dolly", Penelope in "Odysseus", Serena in "Fame", Jannyanydots in "Cats", Carlotta in "The Mission", Svetlana in "Chess", Lady Macduff in "Macbeth", Francesca in "Paolo and Francesca". She is also on stage with "Grease", "The little shop of horrors", "Gastone", "Promesse Promesse" and many more.
She has worked with important directors, actors and productions, such as Ennio Morricone, Riz Ortolani, Marco Frisina, Gino Landi, Dino Scuderi, Enrico Lamanna, Johnny Dorelli, Loretta Goggi, Marco Simeoli, Lorella Cuccarini, Giampiero Ingrassia, Renato Greco, Saverio Marconi, Fabrizio Angelini, Stefano Genovese, Gianluca Guidi, Massimo Venturiello, Tosca. She has performed in several prestigious opera houses such as La Fenice in Venice, Arcimboldi in Milan, Cairo Opera House, Alexandria in Egypt, Seoul, Harbin (China), Montecarlo.
She is the producer and performer of three award-winning shows: "Ciao Amore Ciao – Tenco and Dalida between music and love", "I Love You Are Perfect Now Change" and "Tomorrow Morning".
She has won two awards for best actress, and she is vocal coach for the new Marvel Cartoon Network park in Dubai (IMG) and for the Premium Projects in Doha in Qatar. Artistic director of the Darec Academy in Rome, she is a teacher of the Caracciolo Academy Musical School and Management and of various academies in Rome and throughout Italy.
The photo on stage is by Paolo Cencioni