In the past few weeks I have presented you with the first two "Aznavour's Sirens", Rosy Messina and Stefania Fratepietro. In today's post I will tell you about the last female voice who sang with me on the album "Vous Permettez, Aznavour?": A young but very talented girl who has had so many experiences already, with a fresh and energetic voice, at ease with French language and full of joy: Eleonora Segaluscio.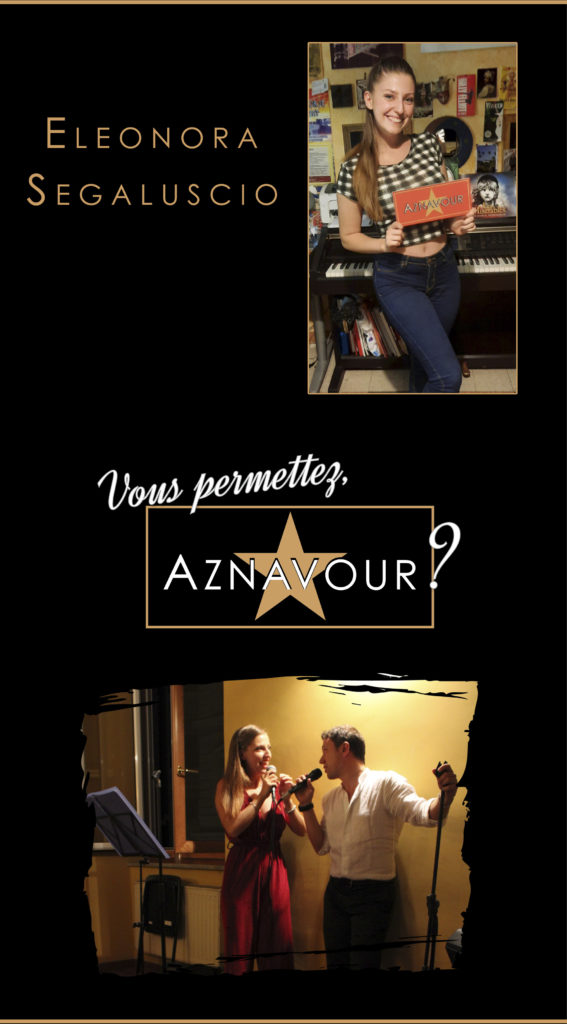 The song that Eleonora and I sing together is "J'aime Paris au mois de Mai", a 1950s song that is rearranged here in a jazz style, in the wake of the 2014 duet between Aznavour and Zaz. A hymn to the beauty of the Ville Lumière, which flourishes again in May leaving room for lightheartedness and good humor.
"J'aime Paris au mois de mai quand les bourgeons renaissent
qu'une nouvelle jeunesse sempare de la vieille cité qui se met à rayonner"
BIOGRAPHY:
Singer / actress, born in 1997, from Rome. In 2011 she began studying singing and solfeggio at the "Viva Musica More Than Music" school in Rome. After obtaining the Diploma and the French BAC at the Liceo Linguistico Lucio Lombardo Radice she finally decided to try to undertake what would be her future: Musical Theatre. In 2018 she ended her studies at the Caracciolo Musical School in Rome.
In 2017 she also began her adventure in sung dubbing at the Emme Studio in Rome. She is the Italian singing voice of Betty Cooper, lead in the TV series "Riverdale". She also worked in cartoons such as "Teen Titans", "Adventure Time", "Wacky Races" and "Unikitty".
In theatre she played Idunn in "The legend of Thor" and Sara in "A Christmas Carol", with the music by M. Simone Martino. She is also the Mother at the PalaPartenope Complex in Naples for "Il Miracolo di Marcellino", a work composed by Mons. Marco Frisina under the direction of R. Trucchi and A. Melissa.
From 2018 she is part of the all-female French company "Les jeunes filles en fleur", with which she stages "Le rouge et le noir – Opera Rock" and "La salle de bain".